British Infantry Section Information Page
A Great War rifle section of "Tommies" portraying either The 1st Birmingham City Battalion (The Birmingham Pals) or one of the Staffordshire Regiments, depending on the venue.
All of these great regiments were in the front line for most of the war years.
An infantryman is a foot soldier of the British Army.
We portray the soldier of The Great War, participating in battle re-enactments (against our German section), and staging Living History displays at events. We also work closely with other Great War living history groups.
We are able to talk knowledgeably about the weapons, kit, tactics and drill employed by the British Army during the First World War, and we are able to discuss the different battles which made up the war. As the war evolved the kit and equipment also changed to take into account the changing conditions, and this is reflected in our displays.
As our name suggests we represent the men of the Birmingham region who responded to the call for volunteers at the start of the conflict (Kitchener's Army). The men enlisted together at local recruitment drives, with the promise that they would be able to serve alongside their friends, neighbours and colleagues (pals), rather than being placed into arbitary battalions.
The Birmingham Pals were recruited in September 1914 in the City of Birmingham as a result of the Kitchener appeals.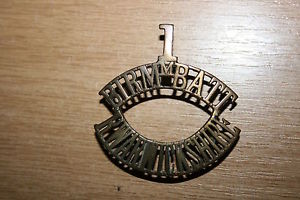 There were sufficient volunteers to form three Battalions, which became the 14th, 15th and 16th (Service) Battalions of the Royal Warwickshire Regiment. Later, in June 1915, a fourth Battalion (the 17th) was formed as a reserve battalion and was reformed in September 1916.
In displays we usually badge as the 14th Battalion of the Royal Warwickshire Regiment, with the cap badge having a double scroll - the top stating "Royal Warwickshire" and the lower stating "1st Birmingham Battalion", "2nd Birmingham Battalion" or "3rd Birmingham Battalion". The 4th Battalion did not have a discrete cap badge. Shoulder titles have two lines stating "BIRMM BATT" and "R WARWICKSHIRE" together with the number 1, 2 or 3 signifying the Battalion.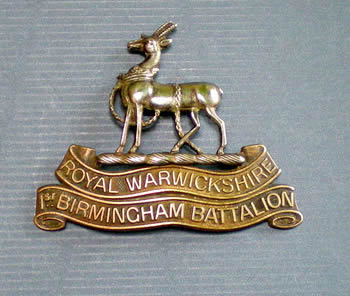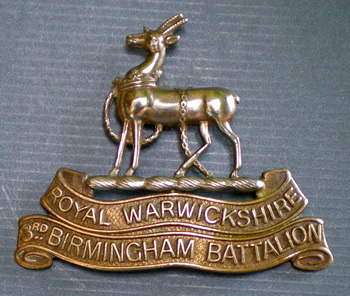 The Birmingham Pals are the resident Great War re-enactors at The Staffordshire Regiment Museum. When working at the museum we badge as a Staffordshire Regiment - either the North Staffs or the South Staffs.
If you are interested in joining the British Infantry section of the Birmingham Pals please feel free to join us at one of our meetings, visit us at one of our events, or contact us by email. There are more details about joining us on our Joining Up Information Page.
Contact the British Section by Email
All sections of The Birmingham Pals are eager to discuss their role with visitors.